BBP 092: How to Prevent Burnout and Get More Done As A Blogger (Feat. Eb Gargano)
Shownotes:
Hard truth, you can't do everything in your business and do it all well, but it's really easy to get bogged down in things that aren't going to move the needle for you. So what should you be focusing on? In today's episode, listen in to find out how to decide which tasks you should be focusing on to make the most difference and keep your sanity intact.
Guest Info
Eb Gargano is a professional blogger who blogs at easypeasyfoodie.com and productiveblogging.com. Drawing on her business and marketing background, she has turned blogging into a successful career. Known as "the organized blogger" in blogging circles, she is passionate about sharing her business, blogging and productivity tips and seeing bloggers turn their blogs into successful businesses, without burning out.
Related Content
Transcript
[00:00:08].290] – Liz Stapleton, host
Truth bomb here. There are never enough hours in a day for a blogger. There's always more to do, more to learn, and more to improve. But the hard truth is that you can't do everything. Even more, you shouldn't be doing everything, but what things should you be focusing on to get the most bang for your buck? You're going to find out in today's episode.
[00:00:24].840] – Liz
Hey, I'm Liz Stapleton, host of the Blogger Breakthrough Summit. And this is the Blogger Breakthrough Summit podcast, where I share some of the incredible tips and tricks that our wonderful speakers shared during our most recent summit. In today's episode, you'll be learning from Eb Gargano, the organized blogger. So let's dive in.
[00:00:39].720] – Eb Gargano
You can't do everything. There are just so many things that we could be doing as bloggers. I mean, I reckon I could employ an army of VAs and still not feel like I was doing everything. This is a really important mindset shift that you have to make if you want to be truly productive. It's so important that I'm going to repeat it. You can't do everything. And this is fundamental because it's only when you truly accept that you can't do everything that you realize you have to choose.
[00:01:18].610] – Eb Gargano
And here's another important thing to get your head around. Some tasks are going to move the dial more than others. One of the biggest secrets to being truly productive is to pick the tasks that are going to have the biggest impact.
[00:01:35].270] – Eb Gargano
Now, you may have heard of the 80/20 rule. I'm slightly paraphrasing here, but basically what it says is that 80% of your results are being driven by 20% of the things on your to do list. Take a moment to stop and think about that. What would happen if you stop doing all those low impact tasks and did more of those 20% of tasks that are driving 80% of your results that would 5x your productivity in one fell swoop.
[00:02:12].870] – Eb
But we can do better because I'm willing to bet that some of the most impactful tasks aren't even on your Todo list right now. And that's what step three is all about.
[00:02:27].230] – Eb
Okay, so, let's say you are like me and you have decided that you are going to focus on the three passive income strategies I mentioned before, so that's ads, affiliates and digital products. In this step, your task is to write down what you consider to be the three most impactful tasks you could do for each of those three monetization strategies.
[00:02:51].420] – Eb
Now, obviously, this is going to depend where exactly you are in your blogging journey right now. But here's an example. Let's start with Ads. For most people, the way to get good money from Ads is by focusing on SEO. So you might say here that the three most impactful strategies are keyword research, creating lots of new, high quality blog posts based on that keyword research and updating your old content. For affiliates, you might pick researching affiliate schemes in your niche going beyond Amazon and finding affiliate schemes with better commission, maybe even recurring commission. You might also pick optimizing your top 20 posts with relevant affiliate links. And finally you might pick creating new content that targets buyer intent keywords. In other words, keywords which the ideal customers for your affiliate products are typing into Google when they're in the mood to buy.
[00:03:54].220] – Eb
And then for digital products you might pick making a new product, building out an evergreen sales funnel, and working on growing your email list with a really good new lead magnet that's going to attract the perfect buyers for your new product.
[00:04:12].740] – Eb
Again, these are just examples you may come to very different conclusions but if you've already thought of a few ideas, a few of those most impactful tasks, I would love to hear about them.
[00:04:28].610] – Liz
Okay. Hopefully this episode has given you a better idea of what you should be focusing on to get the most bang for your time. Be sure join me next time when we dive into your finances and find out why knowing how much profit you make is the most important number. I'll catch you then.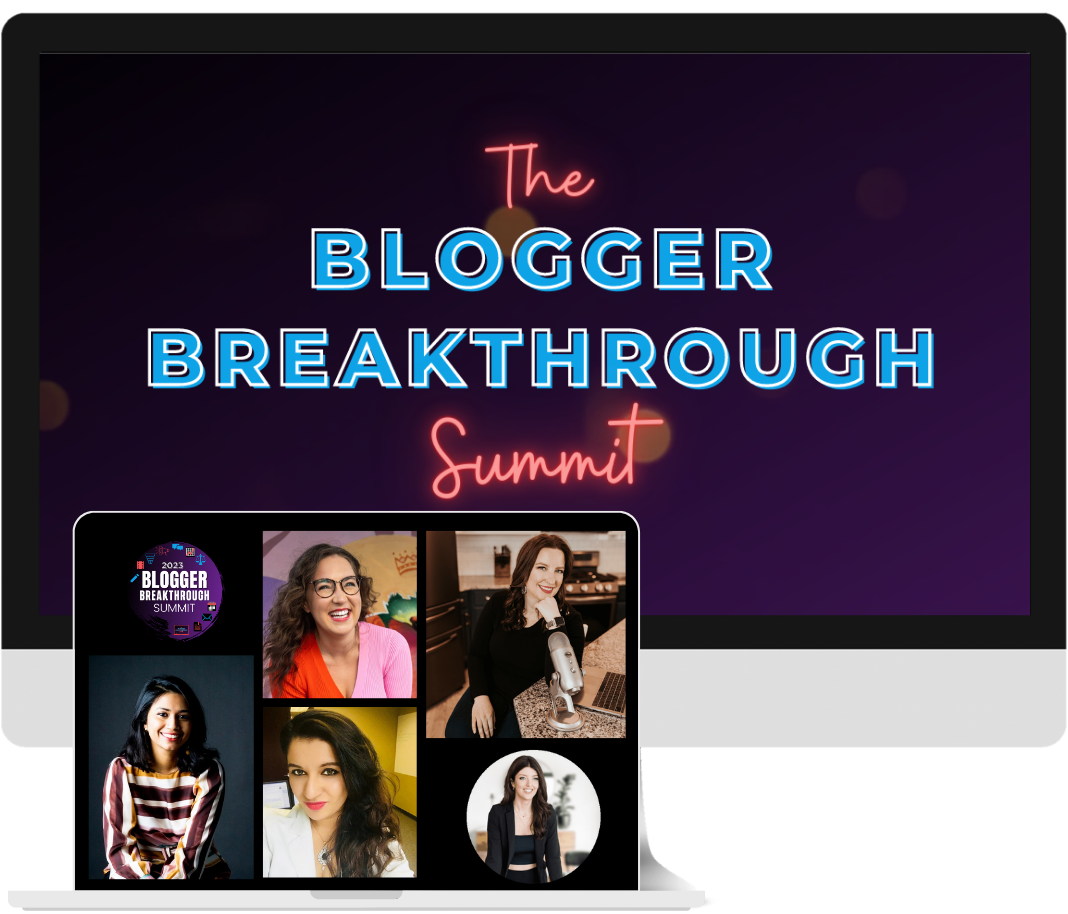 And unfortunately, you missed it this year, but we are offering a new and exciting way to access the Blogger Breakthrough Summit.
It is designed to give you all the knowledge and the right tools you need to break into the blogging world. We have put together all of the sessions that have been geared towards where you are at as a blogger and you can access the level you need for just $9/month.
The Beginner sessions will teach you how to start a blog, build your audience and make money.
The Intermediate and Advanced sessions will dive into funnels, earning with Sponsorships and more!
This is the ultimate opportunity for people who want to create a long-lasting, profitable business and start living their dreams.
With the knowledge and experience these blogging experts have to offer, you will be able to take immediate action and begin your own blogging journey.